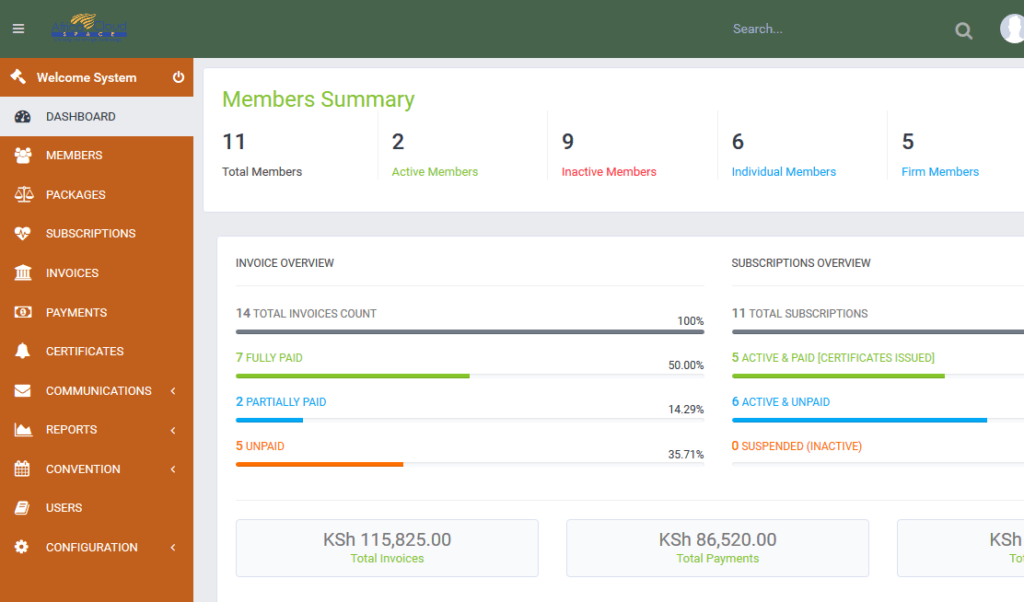 Admin & Members Portal
Membership Management System
The Membership System is a cloud-based system that automates existing processes and helps in improving the management of members' relationships, membership application, approvals, subscriptions, invoicing, payments, event management and communication to members.
Click here to request for a Demo or Quote

Members Admin
Members Portal
Integration Services
This is accessed by management only where they are able to:
Approve/ Decline members' registration.
Create membership packages with charges where applicable.
Edit and Delete members.
Create Membership categories
Automatically Generate invoices on renewal of subscriptions
Manage members' subscriptions.
Automatically post payments via M-pesa gateway
Manage Invoices and Receipts
Post activities, events and news to members.
Manage and track event attendance.
View and print members records.
View Payment records.
Add or Remove a payment method.
Ability to handle membership issues whether presented by phone, email, text or in-person and keep track to its resolution and provide a feedback mechanism immediately thereafter.
Manage communication within the platform through emails, SMS and push notifications.
Handle complaints from members.
Manage system users, their roles and access rights.
Manage System Security like sign in methods of one-time password.
This is the area accessed by the members where they can:
Apply for membership online.
Sign in to the portal.
Access their own profile and update where necessary.
View subscribed membership packages and other existing packages.
Get direct access to their membership accounts.
Settle any membership subscriptions using available payment options.
Have a system generated membership certificate/ID
Communicate to administration.
View activities and confirm participation.
View News and Events.
Get email notifications.
Share vital information with other members.
View payment status.
Book events.
Bookmark events & set reminders among other features.
This involves integration with:
Cloud-based Accounting System with an open API.
Integration with Bulk SMS with Unique Sender ID
Integration with M-Pesa gateway which automatically posts payment to member's account when they pay for their subscriptions or for application or events.
Request for Demo or Quote
Click here to request for a quote or a demo